Happy 4th of July! And what Independance day barbecue is complete without a flag cake!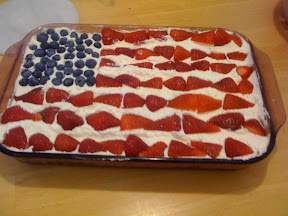 Wait... You want me to turn the OVEN on? In JULY???
No! Of course not! This is a no-bake cake I make for my family all the time by layering graham crackers with vanilla pudding, top with real whipped cream and decorated with berries. I was inspired as a kid by the Uncool Whip commercials they showed during the summer that featured a similar looking cake. Decorating to look like an American flag using berries had to be easier than frosting, right?
Right!
I've never had an easy time decorating with frosting and an even worse time baking cakes, so I decided I had to combine my beloved icebox cake with the ubiquitous flag cake to make this creation.
The measurements for this recipe aren't exact, I've always had either too much or two little of everything. It depends on how many layers you want and the size of your pan.
You'll need:
-At least one box of graham crackers
-At least 24 oz of vanilla or chocolate pudding (or both!)- you're favorite brand (mine happens to be a store brand)
-a package of blueberries, and one of strawberries or raspberries. (I wanted to use raspberries because they'll look neater and don't have to be cut. But the family wanted strawberries and once quartered they fit rather nicely.)
-A pint of heavy whipping cream , or a container of whipped topping if you must.
Note: whipped cream from a can for topping sundaes will not work for this!
In a 9x13" baking dish, put down a layer of graham crackers, nice and straight, filling all available space. You'll need to break some of the crackers into halves and quarters but they will fit. Gently spread a generous layer of pudding on top, followed by another layer of graham crackers, going the opposite direction for stability, as you would with with lasagna. The next layer can be a different flavor of pudding, if you're using both. Keep going until you're out of graham crackers, which need to be your top layer.
Pour the heavy cream into the bowl of your stand mixer and turn it on high. While it's whipping, rinse and thoroughly dry your berries, and quarter your strawberries, if you have them. Top your "cake" with whipped cream, and finally, arrange the berries to the design of Old Glory.
Stash in the fridge for at least 4 hours, overnight is best.
This will not slice up as nicely as a cake but will taste moist and delicious. This has been a hit at every potluck I've been to!
If chocolate and graham isn't your thing try my
Strawberry "Shortcut" Icebox cake!
What's your favorite 4th of July dish?